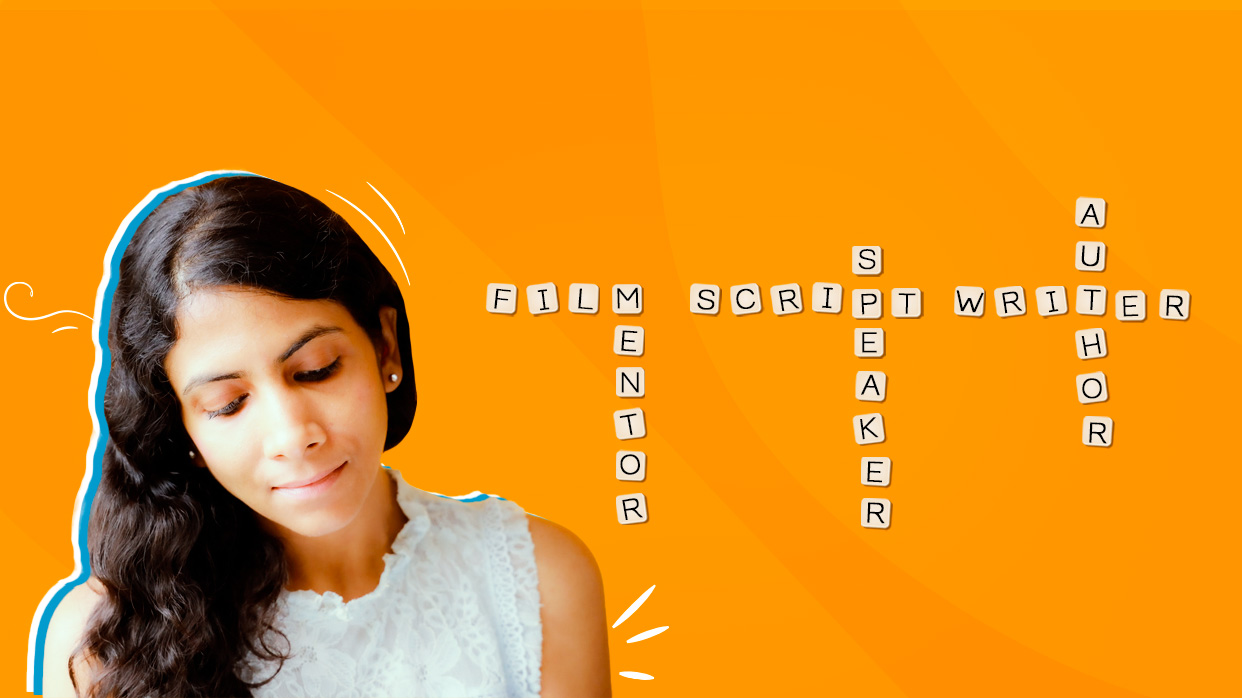 Megha Bajaj finds herself stuck when she needs to write about this person called herself. How to peg this slightly crazy, curly haired, eccentric thinker into a few paragraphs? Should one talk about what they do or just themselves? And so, she decides to do, what she does best… go with the flow…

Growing up as the youngest (also the most notorious and susceptible) part of a 25-member joint Marwari family living at Nepean sea Road, Mumbai, had its say on Megha! Loud, opinionated, family – who would suddenly turn silent as she would ask them uncomfortable questions about herself and Life. It was their silence that made her take to writing to make sense (and non-sense) of everything that was.

An unconventional student of sorts, she would prefer bunking school (J B Petit, Fort), and sitting on the terrace facing the sea, scribbling away like crazy. One year she would top her class; another year sink to the bottom – leading to the nickname "Crazy Genius" from her exasperated teachers. Ironically, it was her English teacher who told her in the sixth standard, that she would never learn English. Fortunately for Megha, the sound of her own heart was always louder than anything else in the world. She went on to study English and Hindi Literature in Xavier's College, as well as script writing from Sophia – all of which added fuel to her love affair with words.

She has written a few books – and each has given her great joy.
The first, at age 23, was Thank You Cancer published by the world acclaimed Hay House. This won a lot of media attention and was written about in Times of India, The Hindu, DNA, Dainik Bhaskar, Mumbai Mirror and was praised on various radio channels. It also got translated in two languages and was nominated as one among the three "Best books in Non-Fiction Category" for the prestigious Crosswords Book Awards. It was a surprise to Megha as she was simply writing to relieve herself.Her next book is called I Inspire – the story of Neerja Malik as told to Megha Bajaj published by Jaico. The book has sold thousands of copies and will soon be on its third reprint. Her next book is called One Woman, Two Advanced Cancers, Conquered. This is the path-breaking and revolutionary journey of her mother who was given a few days to live in 2013 when she was diagnosed with Stage 4, Grade 4 Brain Cancer. Today, she continues to not just be alive, but be kickingly alive – amusing and amazing people around her. Megha is currently working on biographies of several eminent personalities and business icons across the globe and her USP lies in her ability to get under the skin of the person she is writing about and make the words come alive. (Her recent one on the founder of SREI published by Rupa was launched by Governor of West Bengal Mr Jagdeep Dhankar and Member of Rajya Sabha Dr Karan Singh).
On and off she has published with The Hindu, Elle, Readers Digest, Indes (a magazine published in France on India), Nailpolish Stories (a literary journal from Ontario), Discover India and Business Economics. She has won the most read writer award for a popular international magazine (read by close to a million across the globe) called infinithoughts for three consecutive years. She has also been the assistant editor for Life Positive magazine and currently has her own very popular column in the magazine called Aha Moments. (As per the editor her column is once again the most read one).Megha Bajaj has a significant following on social media and readers from across the globe connect to her words. She is uncomfortably honest, and her writing exhibits deep vulnerability and a rare innocence, laced with wisdom and humour. She admits to her flaws openly and is someone who loves to make mistakes and learn from them. Possibly this is what appeals so much to her readers and makes them feel her story is their story. She is one person with whom you do not need to guess – what she thinks, is what she speaks – what she speaks is what she does and people who relate with her find this both refreshing and sometimes also exasperating. In the recent times she has been approached by a few directors/producers to work for them on movie scripts. It is a journey she is yet to embark upon and is waiting for a "soul connect" for her debut. Her vision is to create multiple story ideas, concepts and screenplays which give meaning to her, and are yet commercially successful. E Cube = Eccentric Enlightening Entertainment is the formula that defines her creations. She has been invited for workshops and talks across the globe – from conducting a talk on holistic and emotional wellness in New Jersey, to being the youngest speaker at The World Confluence of Spirituality, her words have constantly been inspiring people. She has been a Chief Guest at most premier institutes, corporate events and talk shows and her child-like enthusiasm as well as genuineness has always touched people. That is about Megha Bajaj and her words. Besides languages, if there is something that holds her attention long term – it is children and meditation. She has co-founded a holistic development under the name of MIRAAYA. You can read more about them on
www.miraayathecentre.org
.
Constantly broadening the horizons. Constantly looking at giving wings to our words. To reaching out and inspiring some "WoW" wherever we can.